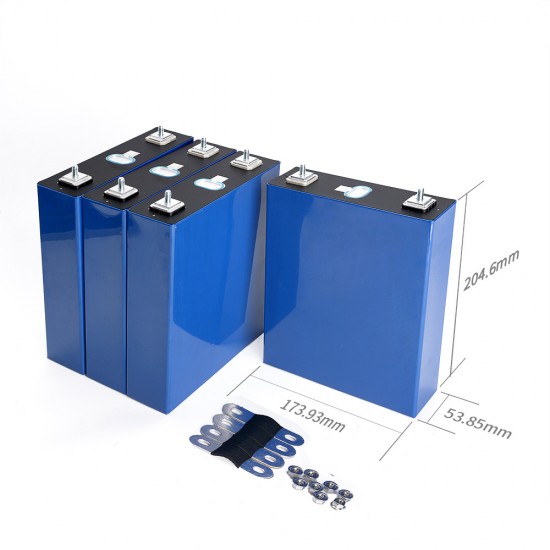 US STOCK
USA STOCK FAST UPS DELIVERY EVE LF230 230Ah 3.2V LiFePO4 Prismatic Battery Cell Laser Welded Terminal Stud
Website price is just for single battery(MOQ is 4pcs),FAST
UPS Shipping Continental United States ONLY
, If you come from others or want ship by sea to save cost then please click here to send us inquiry(we will send you quotation via official email):
Contact Info
1.This is EVE 3.2V 230Ah, Only Top Grade, Brande new with Factory intact QR code, the discharge capacity of each cell can reach 230Ah after our test.
2.The price come with FREE busbar and bolts/screws, one battery will come with one busbar and two bolts/screws.

3. M4 busbars size: 79x20x2mm, cooper plated with nickel

4. Each battery's voltage and internal resistance has been matched and balanced before delivery from China, we still suggest you top balance them again since the long sea delivery time.

Widely Application:
*EV, e-scooter, electric golf car, electric vacuum sweeper.




*Electronic toy, model airplane, remote control.




*Communication equipment: Cordless telephone, inter-phone.




*Modality equipment and consumer electronics.



*Decorative lighting, Solar lamps, torch, emergency light, solar street light and power supply.
Prismatic Cell Specification
Typical capacity
230Ah @ 0.5C discharge Discharge current 0.5C with 2.5V cut off. (25±2)℃
Typical Voltage
3.2V Discharge current 0.5C with 2.5V cut off. (25±2)℃
AC Impedance Resistance
≤0.30mΩ
Standard charge and discharge
Charge/Discharge Current 1C/1C
Pulse Charge/Discharge Ccurrent(30s)
2C/2C The maximum charge current of the battery does not exceed 1C under 0℃~45℃.
Charging Temperature
0℃~60℃ Reference Continuous/Pulse Charge/Discharge Current Map
Storage Temperature
- 20~45℃ Battery can work at specified temperature range with capacity loss in tolerance.
Typical dimension
Width):173.93±0.5mm (Height):207.3±0.5mm (Thickness):53.85±0.4mm Thickness(300±20kgf,40%SOC)
Weight
4.11±0.22kg
EVE
This product has a minimum quantity of 4
Total Reviews (6)
click here write review to add review for this product.